User Agreement
Aosom.ca is a consumer-direct online shopping store,

the following describes the terms on which Aosom offers you access to our services.
Have no fear. Aosom's safe shopping is here!

Safe Technology: Aosom's safe shopping is here! We aim to provide you with a safe and convenient online shopping experience. When placing an order online, your information is transmitted using Secure Sockets Layer (SSL) technology, an approved industry standard that is used by vendors to ensure the security of online business. It negotiates and employs the essential functions of mutual authentication, data encryption, and data integrity for secure transactions. It encrypts your credit card number so that it cannot be read as the information travels over the Internet.

You can be confident in knowing that aosom.ca is a verified Authorize.Net merchant.

Privacy Policy:

Aosom.ca respects your privacy and is committed to protecting it. For more detail, please see our Privacy Policy.
SSL certificate
At Aosom.ca, we have one of the essential components in any secure operation or transaction on the web: the SSL Certificate.

SSL (Secure Socket Layer) is a security protocol that makes the transmission of data between a server and a user, or vice versa, over the Internet, to be completely secure and verifies ownership of the website.
PCI DSS
The Payment Card Industry Data Security Standard (PCI DSS) is a set of security standards designed to ensure that companies that accept, process, store or transmit credit card information maintain a secure environment.

Aosom.ca maintains full compliance with PCI DSS and scans are completed on a regular basis to check for vulnerabilities and maintain security and compliance.



Verified by VISA - all the security in your online purchases.
Verified by Visa is a service that allows you to buy online with added confidence.
Through a simple verification process, Verified by Visa confirms your identity when you make a purchase in online stores, attached to the Verified by Visa system (at Aosom.ca we are members). It is practical and works with your own Visa card.
And, Verified by Visa is easy to use. You register your card only once and create your own password. When you make an online purchase, a Verified by Visa window appears. Just enter your password and click. Your identity will be verified and the purchase insured.
To activate Verified by Visa on your Visa card, or for more information, contact the issuing entity of your card.
Mastercard Securecode - all the security in your online purchases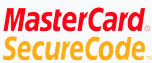 MasterCard SecureCode is a security service to protect you against unauthorized use of your MasterCard card while shopping online, at participating merchants (at Aosom.ca we are members). There is no need to obtain a new card, or download programs for computers, nor do you have to pay any cost. Once you sign up for this service, you will have more confidence knowing that MasterCard SecureCode performs an additional authentication step to protect your account from unauthorized users online.

Register your MasterCard credit or debit card for your personal SecureCode at the financial institution that issued your card. When you make your purchase, the MasterCard SecureCode box will automatically open on the order form and you will be prompted for the SecureCode, just like you use your PIN code at an ATM.
Paypal

With PayPal you can also shop in complete security without sharing confidential financial information directly with us.

All sensitive information transmitted between the user and the Paypal servers is automatically encrypted:
When registering or logging in to Paypal, it is verified that your Internet browser is running Secure Sockets Layer (SSL) 3.0 or higher.
Information is protected by SSL with an encryption key length of 168 bits (the highest level commercially available).
Personal information is stored on our servers and is strongly protected, both physically and electronically. To further protect bank or credit card details, the servers are not directly firewall-connected to the Internet.
------------------------------------------------------------------------------------------------------------

IMPORTANT NOTICE!
Due to the high volume of online transactions, fraudulent activities related to online purchases are being detected.

These scams use social engineering techniques, posing as a trusted person or company in an apparent official electronic communication, usually an email or text message, or in some instance social networks and telephone calls.

At Aosom we are committed to the fight against cyber crime and we join the cause by warning customers and users so that you are not victims of similar scams.
We recommend:
✔️Check the sender of the email (if you do not know it, do not open or click on it)
✔️If you have any questions, do not risk, contact the online store directly
✔️DO NOT provide any bank or card information on pages that do not you know
✔️Keep up-to-date with fraud types on https://www.competitionbureau.gc.ca/eic/site/cb-bc.nsf/eng/04339.html