Welcome Aboard
Aosom is a global marketplace founded in 2009, which owns companies and warehouses in UK, US, CA, DE, ES, IT, PT, FR. We have more than ten shopping websites with many well-known private brands: Homcom, Outsunny, Pawhut etc. Our products range from home & garden furniture, baby products, pets supplies, fitness equipment, outdoor supplies, office supplies and DIY tools. SKU quantity is increasing at 100% rate per year, at the same time, sales is increasing at 200% rate per year. Because its high-quality products, various promotion activities, efficient logistics&distribution service and timely after-sales service, Aosom gain good reputation among customers all over the world.
Affiliate Marketing is one of most important marketing channels of Aosom, the marketing spense is increasing at 500% rate per year. We now have a large amount of high-quality publishers, some of them, including Prodege LLC,RedFlagDeals, Great Canadian Rebates and Whaleshark Media bring us huge sales and traffic, they also get large amount of commission and bonus in return.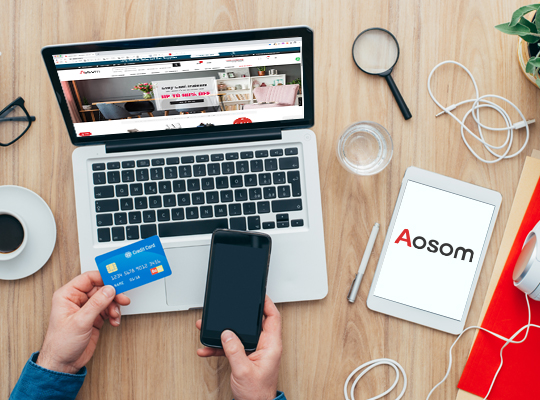 Why Aosom
Free delivery

Low return rate

AOV: > CA$300

Low website bounce rate

High ECPM

High conversion rate

Product feed availability

High commission rate
One-by-one account management

Regular promotion information: discounts, price drop, banners etc.

Other cooperation opportunities: placements, newsletter campaign, exclusive discounts, increased CPA on specific SKU
Program Introduction
We run Affiliate program on CJ(
ID:5372272
) and welcome publishers in all types. You can use Aosom ca' s logo, discounts, banners, text links, product feed, as well as other information we provide for promoting. You will earn commission by referring shoppers to us and selling products via promotion.
Commission rate will increase
Specific product promotion

We increase commission rate for specific products. But this increase is temporary.

Specific publishers

We increase commission rate for publishers with outstanding contribution to sales and traffic.

Bonus

We set temporary commission rate increase, as a rewarding for publishers with good performance.
What can we do for your company?
1

Coupon (Voucher)/Deal

We provide regular discount, price drop and other promotion information, as well as cooperation opportunities, like placement, newsletter campaign and exclusive discount.

2

Content Niche

We provide regular promotion information and banners, as well as article cooperation and newsletter campaign cooperation opportunities.

3

Loyalty/Rewards

We provide high default commission rate, as well as increased CPA of specific SKU promotion.

4

Price Comparison

We provide huge selection of products and categories and product feed availability.
How to start?
We work with the affiliate network Commission Junction. Visit their network, search for Aosom Canada(ID:5372272) and submit an affiliate request. You can also send proposal to: affiliate@aosom.ca Once it approved, it's easy to earn commission by referring shoppers.